Warm Bodies
Looking for intimacy in strangers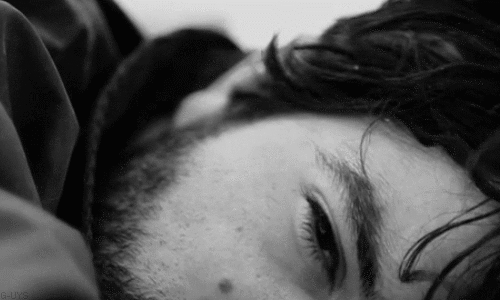 He rested his head on my chest with his arms wrapped around me; I stroked his hair. I liked this position. It made me feel secure and needed. He was finding comfort in me on his twin size bed in his Bushwick apartment. There wasn't much to his room, the floors were clean and empty. His bed against the wall, a small desk with a MacBook that has seen better days, and a bookshelf with one book. It was minimal, cold even… but still I found it warm and comfortable.
"What are you thinking about?" I asked, his ear still pressed to my chest. "Just how different my life was two months ago… everything can change so quickly." As it turned out, he had just got out of a serious relationship with a then live-in boyfriend. He was going from a steady job and a picturesque Greenpoint apartment to a barista at a Fort Greene coffee shop, sleeping on a rickety bed and just barely getting by. This explained why the room was so barren; it had hardly been lived in.
It was in that moment that I realized just how alone we both were; looking for intimacy in strangers. That's the funny thing about New York; everyone is alone but we're all alone together.
We had just met and this was only our second night together so we were certainly strangers. Maybe I was looking to fill a void from the last boy, the boy I thought would be the last boy… or at least for now anyway. Our sadness and sense of longing brought us together even though we didn't know it. He held me tighter and I drifted into sleep.
In the morning his alarm went off and we peeled our warm bodies away from each other, slick with sweat from the heat of being so intertwined throughout the night. I didn't mind the sweat; it felt intimate and I felt just a little closer to him. I propped myself up on my side and took a drink from the glass of water on the windowsill. Outside the early autumn morning was still dark. A heavy fog hung low, illuminated orange from the lights of the J train platform directly across from his bedroom window. He talked as I slowly dressed, and the stranger seemed less strange.
---
Header gif by god-ilho
Shadi Jurdi is a former staff writer for The Mountaineer student newspaper and former Editor-in-Chief of the print edition of Substance magazine. He is an award-winning journalist who now lives in Brooklyn and works as a writer and product education coordinator at Etsy.
This story is a part of a special alumni series. Students who have graduated or transferred from Mt. San Antonio's journalism program are featured weekly.
Substance is a publication of the Mt. San Antonio College Journalism Program. The program recently moved its newsroom over to Medium as part of a one-year experiment. Read about it here.
Leave a Comment