6 Steps To Make It Through Warped Tour
It is like a mini survival guide.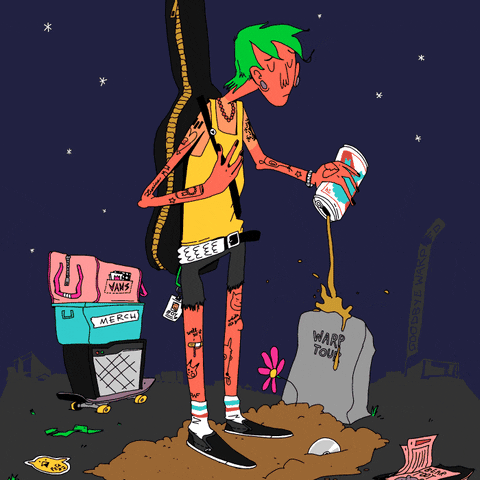 The Warped Tour that many have come to love will make its last run in 2019. Although the last cross country run happened last summer there is still time to attend one last time at three select locations. As the tour prepares to celebrate its 25th anniversary this year there are a few things that need to be noted in order to enjoy the experience. This will prevent you from fainting because of dehydration. Instead you might faint because you got the chance to meet you favorite bands. And it's not just the Warped Tour. This guide will get you through all those very long, and sometimes hot festivals.
1. Clothes
Planning what to wear is important in order to not waste time the day of thinking about it. As you will be outside the entire day it is better to wear clothes that is light and comfortable. Black clothes maybe a staple, but avoid too much of it if possible. Also, save the leather jackets for the fall or winter seasons. It is impressive how there are people that at least enter the event wearing one. Don't wear sandals. Instead leave them at home and wear shoes that cover your feet not matter how hot it is. Your feet will be grateful when someone steps on them.
2. Limber up
Make time for your stretches. It will be important for the more rigorous activity that you will expose yourself to. If you want to get in the mosh pit then you are set to get in there and show off your moves. It will also come in handy for when you are watching a band and then realize the next band you are looking forward to watching is on the opposite end of where you are currently standing. At this point you need to get prepared to run or speed walk. Making it before the bands set starts is important in order to not miss a thing.
3. Cut the line
If you end up leaving late from where you live or are staying there are some things to fear. One is the traffic you might encounter or even the long lines you will face once you park and get out of your car. However, there are some things that will help you out. Three canned foods, five dollars or a used cell phone. There will be a tent accepting them at the front entrance. After donating one of the three options you will be given a wrist band that allows you to skip the long line and go directly to one that has less people as not everyone donates.
4. Know the set time
Once you have entered, try to figure out at what time your favorite bands are set to play. This will prevent you from missing their set. Usually at Warped Tour they have an inflatable wall that has all the bands set time and stage they will be playing at. Find it and take a picture. This will prevent you from buying the schedule that could cost a dollar or two. It will also prevent you from crying for having missed your favorite band. Without the schedule it becomes difficult to plan out your day.
5. Save some money
Food and water can be expensive at Warped Tour, but it is a necessity. When it comes to food take some granola bars or two three snacks. This will stop your hunger for a while, then you could buy something later in the day. At least you won't buy too much. It is better not to depend on what they may have available. For water take two or three cold and sealed water bottles. Make sure they are sealed. If they are not security will make you throw it away. Later you can refilled your bottles at water refill stations for free. Make sure to also take an empty refillable water bottle that you can also refill at the water station.
6. Take a break
You will be in the sun for long periods of time so it is important to take a break. Find some shade to rest under for a while. Apply sunscreen to lessen the sun burns that become almost inevitable. Also, drink plenty of water to stay hydrated. Use this time to regain some energy. Let's try not to faint and instead avoid the emergency tents.
Leave a Comment