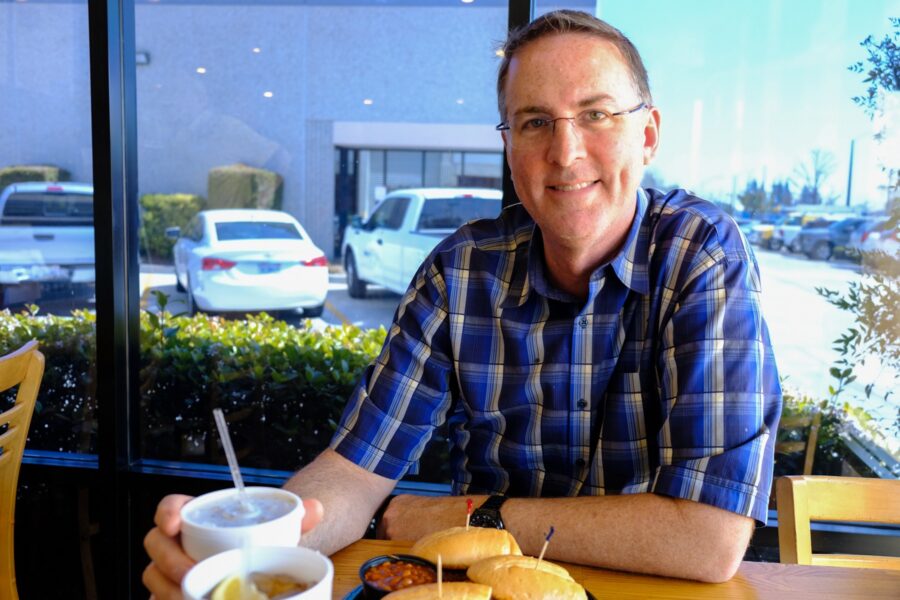 "Psych" creator, Steve Franks, settles in for some BBQ and conversation at Blake's Place BBQ in Anaheim, California. Photo by Douglas de Wet
We were greeted warmly by a young lady behind the counter as we stepped inside Blake's Place BBQ.
"Welcome to Blakes," she said.
It's a small unassuming spot in an industrial section of Anaheim. There's not a theme park in sight. Despite the slightly odd business park setting, the smell of sweet smoke and friendly reception made the place feel cozy, and a friendly staff always makes the food taste better.
"You can use these printed menus if you prefer," she said. "That way you don't have to strain your necks to look at the menu board." She was about 5 feet tall. The menu board was a couple feet above her head. Addressing us as if were viewing the menu from her perspective was endearing.
I am here with my friend and BBQ enthusiast, Steve Franks. Franks is about 6 and a half feet high, and he doesn't like it when strangers greet him by referencing his height. "How's the air up there?" "Do you play basketball?"
Do short people want to be told how short they are? Does a pirate with a peg leg want strangers greet him as "Peggy?" No. Most people do not want to be addressed according to their physical traits. Neither does Franks.
Franks and I have shared lots of experiences over the years, so many things come to mind when I think of him. One of them is BBQ.
Whenever I discover a BBQ joint, or I see one is opening, I always think to tell Franks, who's had a passion for searching out and trying BBQ restaurants for as long as I have known him.
Most people, however, wouldn't associate Franks with BBQ. They probably know him from "Psych," the television show he created and produced for the USA Network from 2006 to 2014. Last year, Franks reassembled the cast to make "Psych: The Movie," which debuted on USA December 7, 2017. He cannot comment on the possibility of future projects for the franchise.
On location in 2009, while directing an episode of "Psych," Steve Franks reviews a script with Tim Meltreger, one of the show's writers. Photo by Douglas de Wet
We took the printed menus and looked them over. I asked the young lady behind the counter which was better, the pulled chicken or chopped? "The pulled," she said without hesitation.
We ordered. As we filled our drinks, we observed one of the servers packing a to go order for an older gentleman. She gave him some complimentary peach cobbler, explaining it had she had dropped it earlier, implying it couldn't be sold. The cobbler showed no sign of damage from the alleged accident. Franks observed the exchange and would comment on later at the end of our meal.
It's just before noon. Blake's is already about three quarters filled. Based on the customer interactions with staff, many patrons seemed like regulars.
The food came out quickly. Franks ordered Tasha's BBQ Trio, a three sandwich sampler, pulled pork, chopped beef brisket and pulled chicken with BBQ beans on the side.
Steve Franks digs in at Blake's Place BBQ in Anaheim, California. Photo by Douglas de Wet
Besides enjoying BBQ, Franks, who graduated from UC Irvine as an English major, has done a lot of things. He did some stand-up comedy, was a skipper on the World Famous Jungle Cruise and worked on numerous other attractions and guest control locations at Disneyland, has been the lead singer and frontman of bands, and acted, directed and wrote his own movies while studying film in graduate school at Loyola Marymount.
His writing career took off while still in graduate school when he sold the screenplay for the film "Big Daddy," starring Adam Sandler and Jon Stewart.
Later, he also sold a pilot to Warren Littlefield's production company. Littlefield played a major role in NBC's Must See TV era when shows like "Cheers," "Seinfeld," "Friends" and "ER" ruled the airwaves. He continues to produce acclaimed and influential shows today, such as "Fargo" and "The Handmaid's Tale."
"I wrote the script and sort of held on for dear life as all these things went on around me, and I tried to help the process when I could," Franks said.
The pilot did not get picked up, but the experience prepared Franks for the future. As the show went through production, his input was taken at times and rejected at others, but he took mental notes, made observations and learned a lot through the process.
The first time you make a television show, people are building sets for a story you created. You're not complaining…you're just kind of amazed and excited by the whole thing.
When a future opportunity arose, he had ideas about what kind of decisions he wanted to make. Franks didn't want to keep turning his ideas over to others. He wanted to develop and bring them to fruition himself. "As the originator of an idea, you should know it best." Franks said, "You should be the one who can best protect it, and convey the things you want to do."
Not unlike Shawn Spencer, the lead character in "Psych!," Franks is keenly observant of his surroundings, constantly taking in details, a skill that comes across in his writing.
"I got the pulled (chicken) because she was so very adamant about it when you ordered," Franks said. "You should always believe the person who works at a place, at least the first time. Unless of course they're pushing some kind of dessert. We all know that's a scam."
Steve Franks working on a comic angle at Blake's Place BBQ in Anaheim, California. Photo by Douglas de Wet
Franks did not frequent BBQ places growing up. He traced appreciation of BBQ to traveling to the South as a young adult.
When you go somewhere, you want to dive into their regional specialty. Most importantly you get to have something made by the people who do it the best. Southern BBQ holds up very very well.
When the USA Network picked up "Psych," Franks finally got the opportunity to call the shots on his own story as he learned he would also serve as the showrunner.
"When I got the job…they said 'they're going to let you run it.' And I'm like, 'of course they are,'" he said, laughing. Whereas on the pilot for Littlefield, "I didn't do a whole lot of running of that…I didn't really know what [show] running was," Franks said.
Outside the TV business, the term showrunner might sound like a go-fer — the person who runs errands, gets coffee, picks up the cleaners or whatever — but it's not.
"It's the person who conceivably makes the big decisions," Franks said. "It's is a weird term." For the most part, he said you can't really be trained to be a showrunner. You have to learn on the job.
"You get thrown into this mix where it's not just about writing the script each week, it's about all of the decisions that go into making a show," he said. "From putting together the team, to manufacturing stories, to refining stories and dealing with notes. There's so many things you have to deal with."
Steve Franks in the director's chair behind the video village while on set directing an episode of "Psych" in 2009. Photo by Douglas de Wet
Franks said a showrunner's responsibilities can vary widely depending on their particular skills and specifics of a production. Some write. Some don't. Others oversee the production like a commander "moving troops and what not across the battlefield," he said.
"Then there are the all powerful showrunners, who are basically writing everything and just using their writing staff to generate first drafts and to put together the work," he said.
No matter who the showrunner is, all showrunners have some things in common. It may be a dream job, making big decisions, getting your name on the top line, but the pressure and responsibility has the potential to make it a nightmare.
A showrunner can easily have hundreds of people relying on them for their livelihood. Millions of dollars are on the line for the studio and sponsors. Reputations are at stake. The job can make a person feel like they're drowning on the bottom of the ocean, with countless tons of atmospheric crushing pressure pushing down on every inch of your being.
In the middle of the season, Franks said they could have five or six episodes in various stages of production. He needed to know what was going on with all of them.
There's so many things in the air. You almost just have to lie to yourself that everything's going to be okay because if you consider the gravity of the situation at every moment, you probably would just go insane.
But Franks is not complaining. He said it's important to keep the pressure in perspective and keep the work fun. "It's a children's job. You're just playing and making up stories." But he added, "you're playing and making up stories with several million dollars of some studio's money every week."
Franks started checking out BBQ joints while visiting a friend who'd moved to the South to go to college. Franks sought out BBQ in Alabama, Georgia, North Carolina and even Florida, which may not typically come to mind as a BBQ destination. However, Franks said 4 Rivers Smokehouse in Winter Park, Florida, ranked high on his list of all-time favorite spots.
Franks likes BBQ, but he doesn't care for pickles. Photo by Douglas de Wet
Franks enjoys food's ability to transport you, conjuring memories and feelings of a place and time. "There's always the thing that you feel like you're on vacation," Franks said. "I love Cuban food because I feel like I'm on vacation when I have Cuban food. Same thing with Caribbean food."
For Franks, part of BBQ's appeal comes from the search. Searching for something special can even be more fun than the discovery itself. Searching for BBQ can also serve as a distraction from the pressures of television production.
During the show's run, in addition to serving as showrunner and executive producer, Franks began directing episodes as well. Even though he's done many things, he still thinks of himself primarily as a writer.
"Whenever I meet someone…or someone asks me what I do for a living, I've never once said 'I'm director.' I never once said, 'I'm a showrunner or a producer.'" Franks said. "I always say that I'm a writer because in my heart that's what I feel I do. I write stories. It's my favorite part of the process."
As a showrunner who writes and runs the writing room, Franks had to manage many deadlines. He said when story ideas grind to a halt, it's important not to get too wound too tight. Instead, he said the writer's goal is always to find special moments without feeling like you're banging your head against the wall.
Steve Franks speaks with writers and producers, Andy Berman and Tim Meltreger, on location while directing an episode of "Psych" in 2009. Photo by Douglas de Wet
In many of the writer's rooms he's experienced, he said you sit in a room all day, staring at a whiteboard. "What I do is get the room on its feet. I take everybody for a walk," he said. They would start walking laps around the studio and just talk. It would usually take a couple laps, but this usually did the trick.
"You started getting into it. By about the 25 or 30 minute mark, suddenly, you've let go of everything that was holding you back. You're mind is going other places, and that's where all the creativity happens," Franks said.
I find that my best thinking happens when I'm walking or hiking. That's something that took me 20 years as a writer to figure out. [In the past] I'd sit at my computer and I'd say, 'I am going to fix this!'…It would just get worse. If I'd just gotten up and walked down to 7–11, I probably would have solved it much quicker. Don't underestimate the value of not thinking about what you're supposed to be thinking about to fix what you should be thinking about.
The plates were cleared from the table. The line to order reached to the door now. We decided it was time for a change of scenery. Bottle Logic Brewery was nearby, and it was well past noon. We decided to head there next.
Before we left, Franks recapped lunch and found a little comedy in the experience.
"I loved when the girl behind the counter was packing the to go order for the older couple, and she wanted to give them some peach cobbler, but she didn't want them to think she was providing charity. Maybe that wasn't her intention at all, but this is how I read it," Franks said.
Franks begins to laugh describing the exchange, already working on a comic angle.
Imagine the camera zooms in on the cobbler. The golden peaches glisten through its clear, plastic container. Cue a sound effect for emphasis — na na na na na. Cut back to Franks and zoom in for a tight shot on Franks. He wears a serious expression, his powers of observation fully activated. His stare increases in intensity as we sense he is focused on the cobbler. As the women places it in the bag, he notices a scar on her hand, a detail that will figure into the plot later in the episode. Cut back to the juicy, sweet dessert with golden brown crust. Cue the sound effect again: na na na na na na na na…then the punchline comes.
"So she said, 'I have this peach cobbler. I dropped it this morning.' And [the older gentleman man] was all, 'Oh, that's great!' I thought that was a really nice give and take," Franks said, still laughing. "It would have been really funny if they said the same thing with your garlic bread. 'Hey, we just dropped this, so we're putting it in your bag.'"
Steve Franks points the way while on location directing an episode of "Psych" in 2009. Photo by Douglas de Wet